My fellow cohort, Jason Fresta, just released his brand new CD! "Road Of Grace" by Dead See Life is a mix of hard and acoustic rock and, in my humble opinion, it sounds amazing. Jason is a fantastic singer, guitarist, bassist, and songwriter who I've had the pleasure of working with on numerous projects. I contributed bass guitar on two "Road Of Grace" tracks: "Even Though," and "Running Away".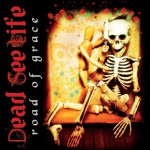 Jason pulled no punches on this album. These are ten of the most personal, honest, dark and gritty tracks I've heard in a long time. I don't think it's fair for me to review this record since I've been familiar with the material for years, but I highly recommend that you pick up a copy. The recording is top-notch, the production is phenomenal, and it was ingeniously mixed by Tarik Solangi at Prime Time Sound Studios.
You can catch Jason as the front man for The Dead Elvi at the Chiller Theatre Expo right now in Parsippany, NJ!