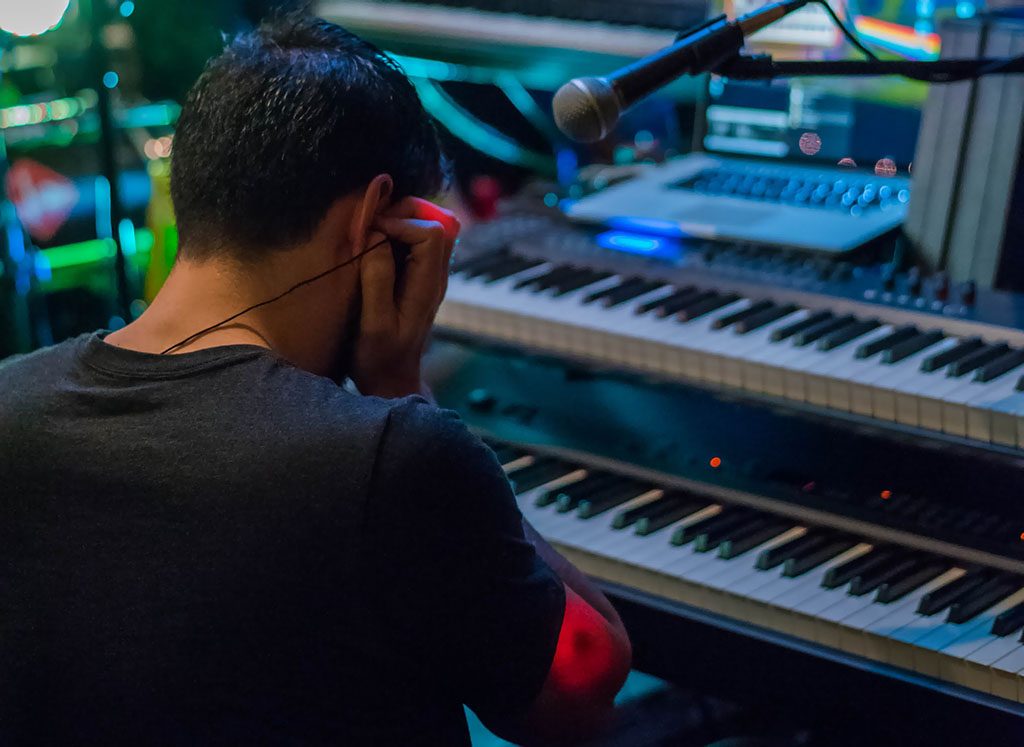 This is a fairly comprehensive list of projects I've had the fortunate opportunity to work on. Credits include mixing, mastering, live streaming, and session work for multiple instruments.
My album credits can also be viewed on Discogs.
A less inclusive yet 'more official' list of my music credits are available on ALLMUSIC.
LATEST | 2015 | 2010 | 2005 | 2000
Year
Artist or Project / Title / (Company)
Credit
2022
Jay Love
Threat Level Delta [EP] (Golden Apple)
Mastering Engineer
2022
Grim Futures
#Hooks [EP] (Indie)
Mix Engineer
2022
Grim Futures
Empowerment [EP] (Indie)
Mix Engineer
2020–
2022
CMT
CMT Music Awards Red Carpet (Paramount)
Director of Live Streaming
2021–
2022
MTV
MTV's Friday Livestream (ViacomCBS)
Director of Live Streaming
2020–
2022
Comedy Central
The Daily Show with Trevor Noah (Paramount)
Director of Live Streaming
2018–
2022
Bellator MMA
Weigh-Ins, Prelims, Main Card Bouts
(SHOWTIME/Paramount/CBS Sports HQ)
Director of Live Streaming
2018–
2021
MTV
MTV Europe Music Awards (EMA) (ViacomCBS)
Director of Live Streaming
2018–
2021
MTV
Video Music Awards [VMA Digital] (ViacomCBS)
Director of Live Streaming
2018–
2021
MTV Latin America (Brasil & Mexico)
MIAW (ViacomCBS)
Director of Live Streaming
2020–
2021
CMT
Concert For Love And Acceptance (ViacomCBS)
Director of Live Streaming
2020–
2021
BET
BET Awards (ViacomCBS)
Director of Live Streaming
2018–
2021
MTV
Movie & TV Awards [Digital] (ViacomCBS)
Director of Live Streaming
2018–
2021
MTV News
"Need To Know" Series (ViacomCBS)
Director of Live Streaming
2021
Paramount+
24-Hour App Launch Stunt (ViacomCBS)
Director of Live Streaming
2020
That New Life
That New Life (Dick Tait)
Co-Producer,
Mix & Mastering Engineer,
Additional Guitars,
String Arrangements
2020
MTV & CMT
Vote For Your Life (ViacomCBS)
Director of Live Streaming
2020
BET News
A March For Action (ViacomCBS)
Director of Live Streaming
2020
Rich Berta & That New Life
Grow Back/Easier [Single] (Dick Tait)
Co-Producer, Recording Engineer
Mix & Mastering Engineer
2020
LOGOtv
Pride Live: Stonewall Day (ViacomCBS)
Director of Live Streaming
2020
Jay Love
ill Venom [EP] (Golden Apple)
Mastering Engineer
2020
BET
Saving OurSelves: A BET COVID-19 Relief Effort (ViacomCBS)
Director of Live Streaming
2020
CMT
Feed The Front Line (ViacomCBS)
Director of Live Streaming
2020
BET
BET Remembers: Kobe Bryant (ViacomCBS)
Director of Live Streaming
2020
BET
NAACP Image Awards (ViacomCBS)
Director of Live Streaming
2019
Born Talent
The Golden CD (Indie)
Mastering Engineer
2019
Pluto TV
MTV Music Video Channels [Launch] (Viacom)
Director of Live Streaming
2019
BET
Black Coffee [Web Series] (Viacom)
Director of Live Streaming
2019
DJ Khaled
MTV's Khaled-Con (Viacom)
Director of Live Streaming
2019
Madonna
Medellin [MTV International World Premiere] (Viacom)
Director of Live Streaming
2019
Bobby Tiberi AKA The Great Bobbo
Video Singles EP (Indie)
Producer, Audio Restoration,
Mix & Mastering Engineer
2018
Rise
Best Of Vol. 1 (Yetiville)
Mastering Engineer
2018
BET
BET Experience (Viacom)
Director of Live Streaming
2018
Jay Love
TunnelVision [EP] (Golden Apple)
Mastering Engineer
2015–
2017
MTV
MTV Europe Music Awards (EMA) (ViacomCBS)
Live Stream Engineer
2014–
2017
Spike TV
Bellator MMA (Viacom)
Live Stream Engineer
2013–
2017
MTV
Video Music Awards [VMA All Access Live] (Viacom)
Live Stream Engineer
2017
Diamond Cheri
Beauty In The Beast (Indie)
Mix & Mastering Engineer
2017
Peter J. Blume
My Classical Passion (Indie)
Drum Programming, Mix Engineer
(Select Tracks)
2013–
2017
MTV
Movie & TV Awards [All Access Live] (Viacom)
Live Stream Engineer
2016
Cosmos & Creature
Young [Single] (Dirty Canvas)
Electric Piano, Keyboards
2016
Swann Notty, Four Oh One, DJ Mekalek
The BarFly EP (Indie)
Mastering Engineer
2016
RA The Rugged Man, Panama P.I., Matt Fingaz, Rise
#SleezbagMekalekTape [Deluxe Edition] (Yetiville)
Mix & Mastering Engineer
(Bonus CD)
2016
Sam The Sleezebag & DJ Mekalek
#SleezbagMekalekTape (Yetiville)
Mastering Engineer
(Download, CD, Cassette)
2016
Onyx
#SleezbagMekalekTape (Yetiville)
Mix Engineer
2015
^
Diamond Cheri
Show And Prove [EP] (Indie)
Mastering Engineer
2015
Sam The Sleezebag, DJ Mekalek, Celph Titled
The Orange Snippet Tape (Yetiville)
Mastering Engineer
2015
Buckwheat Groats
Tonight I'm Gonna Eat The Butt [Single] (Indie)
Mix & Mastering Engineer
2015
Buckwheat Groats
Million Dollar Menu (Remix) [Single] (Indie)
Mix & Mastering Engineer
2014
5 Seconds Of Summer
Amnesia [Unreleased Pop Mix] (Capitol)
Piano, Synthesizer, Organ
(uncredited)
2014
Buckwheat Groats
Hanks [Single] (Indie)
Mix & Mastering Engineer
2014
Tony Pax
Unearthed (Indie)
Mastering Engineer
2014
Bayside
Cult (Hopeless)
Keyboards, Organ,
String Arrangements
2013
MTV, VH1, CMT, & LOGO
O Music Awards (Viacom)
Live Stream Engineer
2013
Dead See Life
Road Of Grace (Tragic Rabbit)
Bass
(Select Tracks)
2013
The Reflookoo Jambee Experience
PYTO [Single] (Indie)
Mix & Mastering Engineer
2013
Buckwheat Groats
Swag Like An Asian [Single] (The Warner Sound)
Mix & Mastering Engineer
2013
Tegan And Sara
MTV Hive – Live In Boston (Viacom)
Live Stream Engineer
2012
The Flaming Lips
O Music Awards [24hr World Record] (Viacom)
Live Stream Engineer
2011
Bayside
Killing Time (Wind-Up)
Piano & Keyboards
2011
The PreZcotts
Gossip (Rocket Science)
Piano & Keyboards
2011
Forever The Sickest Kids
Forever The Sickest Kids (Universal Motown)
Piano, Synthesizer,
String Arrangement
(uncredited)
2011
He Is We
My Forever (Universal Motown)
Keyboards
2011
Being Benny
iOS App (Purple Sneakers Studio)
Narrator
2010
^
Leslie Casey & Company
Let's Play (Indie)
Mastering Engineer
2010
Kevin Kane Band
Saturday Night Coffee (Indie)
Piano, Organ
2010
Cimer Amor (feat. Jay Love)
Taking Nowhere, Somewhere (Coalmine)
"Angry Italian" Voice
2010
Laughing Pizza
Let's Go Play! (Little Bean Family Entertainment)
Organ, Synthesizer
2009
Tiffany Giardina
No Average Angel (Sony)
Keyboards
2009
Brooke Hogan
The Redemption (SoBe Entertainment)
Keyboards
2009
Suit Of Lights
Bacteria (Visiting Hours)
Keyboards
2009
Rise & The Avid Record Collector
Risen (54 Side Records)
Mastering Engineer
2009
Various Artists
Take Action! Volume 8 (Hopeless Records/Sony Music)
Keyboards
2009
Freddy
Let's Go (Indie)
Keyboards
2009
Tina Parol
Bite My Tongue [EP] (Universal Motown)
Keyboards
(uncredited)
2008
Bayside
Shudder [Bonus Track Version] (Victory)
Keyboards
2008
Moonspank
You Thought The World Was Over (Tainted)
Electric Pianos, Organ,
Mastering Engineer
2008
Tiffany Giardina
Another Cinderella Story [Soundtrack] (Razor & Tie)
Keyboards
2008
C-Note
Chivalry (JKH Entertainment/Madacy)
Piano & String Arrangements
2008
Jackassworld.com: 24 Hour Takeover
MTV (Viacom)
Digital Encoding Engineer
2007
Captain Kid
Demos

Keyboards
2007
James Garfunkel
Demos

Keyboards
2007
Karwreck
Ditched (Indie)
Engineer, Co-Producer,
Co-Mix Engineer, Electric Piano
2006
Jordan Knight
Love Songs (Element 1/EMI)
Electric Piano, Keyboards
2006
Jeffrey & Jack Lewis
City & Eastern Songs (Rough Trade)
Mastering Engineer
(uncredited)
2006
Born Talent
Bad Side [Single] (54 Side Records)
Mastering Engineer
2005
^
C-Note
Wepa (JKH Entertainment/Madacy)
Piano & String Arrangements
2005
Jason Fresta
We're All Mad Here (Tragic Rabbit)
Mastering Engineer
2004
Mad Machinery
Live @ Arlene's Grocery (Sandblasted)
Vocals, Guitar,
Mix & Mastering Engineer
2004
Brooke Hogan
This Voice (Trans Continental Music)
Keyboards
2004
Moonspank
The Promo EP (Indie)
Organ, Assistant Mix Engineer,
Mastering Engineer
2004
Showy And 5 Foot 2: The World Famous Pontani Sisters
Documentary (Going Forwards Films)
Mix Engineer
2004
Mad Machinery
Reconnecting (Sandblasted)
Vocals, Guitars, Piano, Keyboards,
Bass, Drum Programming,
Co-Writer, Co-Arranger,
Co-Producer, Mix &
Mastering Engineer
2004
The Rosenbergs
Department Store Girl (Force MP)
Keyboards, Bass (select tracks),
Video Editor (CD Extra)
2003
Regenerated Headpiece
Dogfight (GlobalHipHop)
Bass, Keyboards
2002
Moonspank
Just Another Day (Indie)
Electric Piano, Mastering Engineer
2002
Amanda Latona
Can't Take It Back [Single] (J Records)
Bass, Keyboards
2001
Regenerated Headpiece
Rat Race Vacation (GlobalHipHop)
Bass, Keyboards
2001
J Bender
J Bender (Columbia)
Keyboards
2001
The Rosenbergs
Mission: You (Discipline Global Mobile)
Keyboards
2000
^
The Rosenbergs
Puff Daddy Isn't Kosher [Single] (Hungry Hippo)
Graphic Design & Layout
1998
Dino Covelli
Dino Covelli's Mad Machinery (Sandblasted)
Vocals, Guitars, Keyboards, Bass,
Drum Programming, Producer,
Mix & Mastering Engineer
1997
Christian Nova
Walking Happy (Original Cast)
Post-Production Editor,
Assistant Mastering Engineer
1997
Sister, Sister
Season 5 Theme Song (The WB)
Assistant Engineer
1997
Red Dragon Records
Volume One (Red Dragon)
Assistant Mastering Engineer
LATEST | 2015 | 2010 | 2005 | 2000