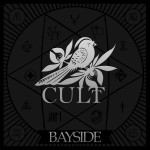 Bayside is a punk rock band from Queens, NY who have released six albums (Victory Records/Wind-Up Records) and have achieved "cult" status with their dedicated fan base. Their newest effort has a name that reflects this very fact: "Cult" is available today on iTunes, at your local record store, and just about anywhere that sells CDs or music downloads!
I contributed keyboards, B3 organ, and did some string arrangements on this album. I really enjoy working with these guys because, while their songs have a very pop-friendly element to them, the guitar work is very intricate and creates a welcomed challenge for me.
If you're unfamiliar with Bayside's music, you can sample all the songs from "Cult" here on iTunes.